Sustainable landscapes with your household in mind
We individually design a unique plan to complement you and your family's dream space.
What is a design plan?
A design plan works with the balance of the needs and desires of all residing on the property and the land we are working with. We can solve drainage problems with water issues or reclamation, create gorgeous outdoor living and dining areas, offer spaces for children to explore and tempt their curiosities, and nourish families with delicious home grown foods and herbs. We focus on utilizing low-maintenance plant selections that work with our adapting climate. A design plan includes three hours of detailed on-site consultation, an overhead to-scale grid of the new design on the property, a plant list with counts, plant profile pictures, and illustrations and images for carpentry and structural elements.
We develop phasing if necessary for installation to fit within budgets and timelines, and work with contractors through the installation process so you can have one company to maintain consistency through your project. We specialize in plant procurement and layout for landscape construction companies so the design looks as intended from start to finish. Landscape design plans begin at $850 per yard area. Plant procurement pricing varies on market availability and on-site consultation with contracting companies and plant layout is $80 per hour.
Design Consultation
$80 per hour with a one hour minimum
A consultation is different for every property and person as it is based on the goals we set in the beginning of our time together. Whether it is advice about current plants and their locations, ways to make the space more functional, seasonal amendments, or enhancing your property for entertaining you will gain expert information and new, inspiring ideas.
Design By The Hour
$80 per hour with a one and a half hour minimum
Design by the hour leads with initial goal setting for your space and then is complemented with ideas to redefine and transform specific garden areas by going to a nursery or doing plant layouts. This is excellent for small spaces and individual garden bed modifications, setting up space for parties or events, or residential house sales. Hourly design makes an amazing housewarming, birthday, or retirement gift!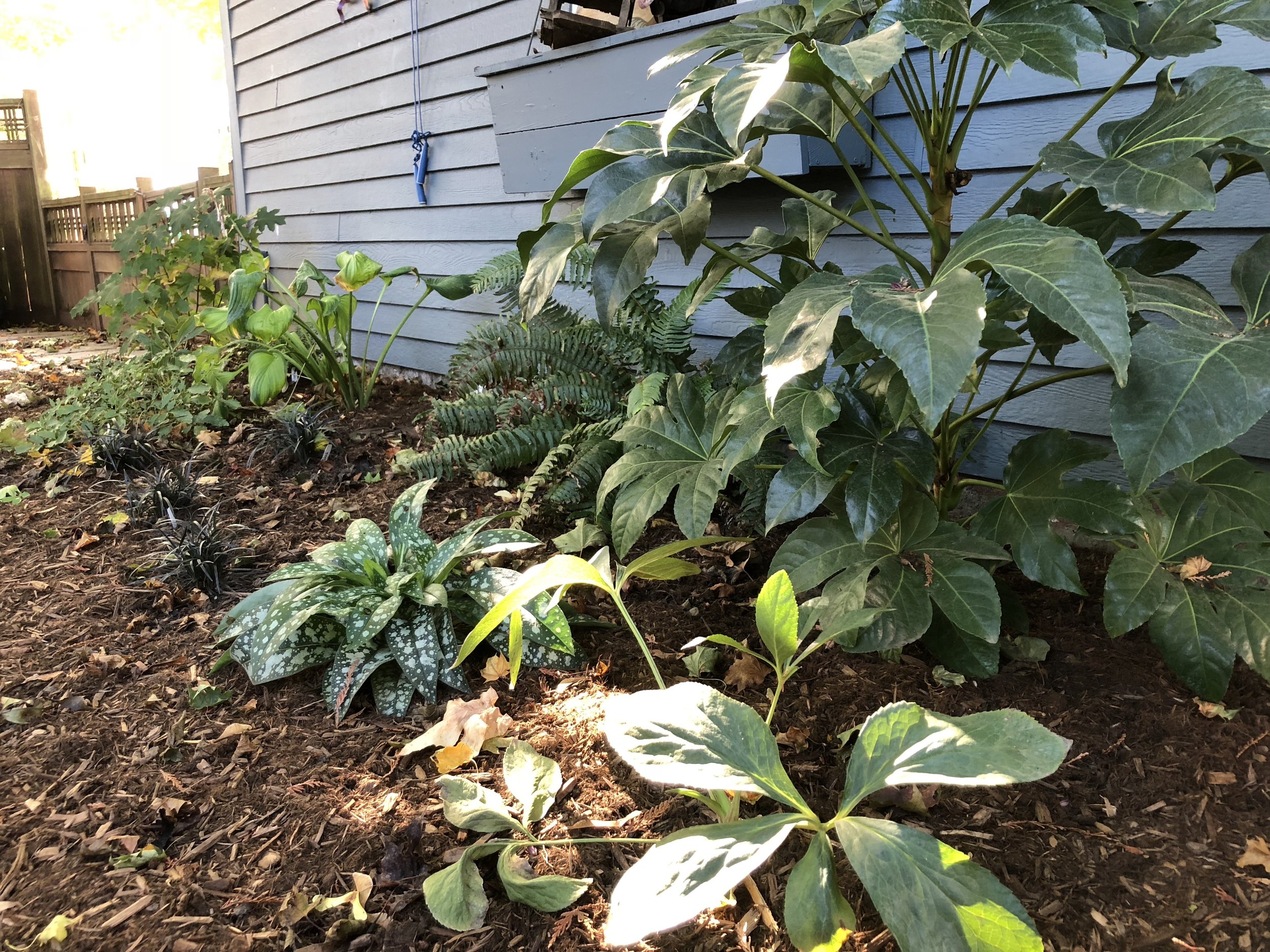 Design Example:
Pugs Gone Wild!
This backyard dilemma was a fun challenge to solve. This sweet couple bought their house with an amazing backyard garden, a definite draw to their desire to purchase this NE Portland property. The plants were high maintenance, and with a full house, other things ranked priority. Our generous family of three fosters super cute pugs in need along with their permanent couple of family pugs. With so many hounds and a fabulous five year old, you can imagine how not only did taking care of plants in the yard go to the wayside, but the animals had the run of the roost. No one was using the backyard any longer except for the dogs.
Our first order of business was to contain the dog business! We planned a gated dog only area for toiling and lounging, complete with a geriatric dog ramp that could be accessed by simply opening the back door of the house. We also included special requests for all family members: a large clean and open patio that felt slightly modern, where grilling and community seating could happen, garden beds with appropriate plants for the dry, shady conditions of the yard that would feel whimsical and full- and bloom or have seasonal interest throughout the year, a children's discovery area with natural wood elements that could be adapted into a free-play style of learning, and areas for relaxing on a hammock, yard art displays, and a tiny observation patio.
Note- these pictures are from a brand new install, which has baby plants. Stay tuned for one year later photos!
"I was really pleased by the way Seed Garden Designs handled each aspect of the project, from design to assisting with implementation. To have the vision and be able to execute it is quite impressive."
- D.S. -
"We had our yard designed by Seed Garden Designs a couple of years ago and have been using the monthly maintenance service since. It has changed our family's relationship to our outdoor space--it is now a blessing instead of an overwhelming chore. Alissa and her staff are knowledgeable, kind, and responsible.
We couldn't be more pleased."
- E. Wiesenthal -
Fill out the form below to set up an initial design consultation